Illustrated by Valeri Gorbachev
Published by Harcourt Books, 2004
Ages 2 to 5
Buy This Book
For an autographed copy of any of Lesléa's books, please send an email directly to her.
The animals are playing hide and seek in the forest, but Bear, the biggest one of all, cannot be found. Is Bear hurt? Is Bear sick? Where could Bear have gone? One thing is certain: his friends will do whatever it takes to find him. Told in verse and illustrated with charming animal characters, this is a great read-aloud story.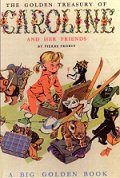 Why I wrote this book
I loved playing hide-and-seek as a child, and thought it would be fun to write a book where animals of the forest played my favorite game and to make up fun hiding places for them.
Excerpt
Who wants to go play Hide and Seek?
Everyone hide. Bunny don't peek!

With eyes shut tight so she can't see,
Bunny counts out, "One, two, three"

Fox sneaks behind a fallen log.
Oops, she almost sat on Frog.

Where is Turtle? It's hard to tell
If that's a stone or Turtle's shell…

© 2003 Lesléa Newman
Review
"A wonderful rendition of the ever-familiar hide-and-seek game, this rhyming story gives readers a forest-animal version. Bunny kicks things off by being "It" as all the other creatures run off to their respective woodland hiding places. While Bunny doesn't take long to locate most of the critters, it is the largest of the beasts, Bear, whose whereabouts remain elusive. Bunny and company bravely go where few have gone before to locate their ursine friend. It must be heading toward winter in the wood because although Bear is located in his cave and roused, he doesn't remain awake for long. With charming pen-and-ink and watercolor spreads that depict the animals' bewilderment, this fun-loving, simply-told story will appeal to the pre-school set."