Illustrated by Ronald Himler
Wm. B. Eerdmans Publishing Co., February 2004
Ages 4 to 8
Buy This Book
For an autographed copy of any of Lesléa's books, please send an email directly to her.
Victor and his mom and their cat Charlie are a family. But Charlie is old, and when he dies, Victor is too sad to think about getting another pet. With some encouragement from Charlie's vet, Victor adopts a new kitten named Shelley. At first Victor is disappointed that Shelley acts differently than Charlie, but as he grows to love her for who she is, Victor realizes that every cat is "the best cat in the world."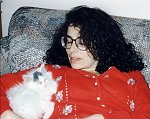 Why I wrote this book
One day I asked my cat, Princess Sheba Darling, "Are you the best cat in the world?" As she purred her reply, I remembered I used to ask my old cat Couscous the very same question. (You can see a picture of Couscous on the FAQ page.) I realized that every cat is the best cat in the world, and so I wrote a book in which a child comes to the very same conclusion.
Excerpt
When Charlie was a kitten, he had orange fur the color of a Halloween pumpkin and big green eyes that looked like two lucky marbles to keep in your pocket.

But now Charlie was old. His orange fur was full of white patches, and grey clouds floated across his eyes. Charlie used to play with his favorite toy, a ball of red yarn tied to a stick, all the time. But now Charlie was too tired to play. Mostly he just napped on my bed. At night he slept on a special pillow right next to mine. "Who's the best cat in the world?" I asked him after Mom shut the light. Charlie purred a rumbling reply.

One day Charlie didn't get up at all, not even for his supper. We took him to the vet but there was nothing she could do. "I can't make Charlie young again," Dr. Levin said, stroking his head. "I'm sorry, Victor."

© 2003 Lesléa Newman
Reviews
"Newman captures the conflicting emotions of losing a cherished pet and then learning to love a new one in this warmly reassuring tale…. Himler's soft pencil and watercolor art conveys a myriad of feelings….Touching in its depiction of the carefully crafted bonds between a boy and his furry companions, this story comes full circle with Victor and Shelley peering out at Charlie's rosebush. A fitting read for any youngster facing the loss of a pet."
"In this worthy companion to Judith Viorst's The Tenth Good Thing About Barney, a young child grieves for his pet… For comfort and catharsis, Newman's fine story is the cat's pajamas."
"There are many books about the death of a pet, but Newman offers a much-needed one about integrating a new animal into the home, a sensitive situation that she handles with tenderness and humor."
"The adults display kindly acceptance and great wisdom in helping Victor deal with the death of his beloved pet. Newman manages to convey sympathy without being cloying, and she never belittles Victor's feelings. Himler's watercolor illustrations are appropriately warm and fuzzy, and are well-matched to the text. A sweet story about grief and acceptance."