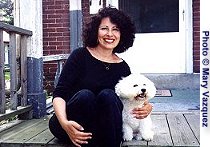 Lesléa (pronounced "Lez-LEE-uh") Newman was born in Brooklyn, NY and grew up there and on Long Island, graduating from Jericho High School in 1973 (where she was voted Class Wit!). Right after graduation, she became a published author for the first time; several of her poems were published in Seventeen Magazine.
Lesléa attended the University of Vermont and graduated in 1977 with a B.S. in Education. After graduation, she moved to Boulder, Colorado to attend Naropa Institute. In 1980, Lesléa received a Certificate of Poetics from Naropa Institute, where she had the great honor of being Allen Ginsberg's apprentice.
Before moving to Western Massachusetts in 1983, Leslea lived in Boston and New York and had a variety of jobs including preschool teacher, secretary, waitress, freelance reporter, and sales clerk. She now lives in western Massachusetts, and from 2008-2010 served as the poet laureate of Northampton, MA. Currently she teaches writing for children and young adults at Spalding University's Naslund-Mann Graduate School of Writing.
Lesléa always knew she wanted to be a writer and has always worked hard towards that goal. She writes in many different forms: picture books, poems, short stories and novels. She has published many books and won many awards (see list of awards and publications). She says this to anyone who wants to be a writer: "Writing is hard work. It is also lots of fun and very rewarding. If you want to be a writer, you must practice your art. Try to do it every day. Do other things that support the writing life: read as much as you can, visit the library, go to readings at bookstores, join or start a writer's group. Everyone has interesting and important stories to tell. Allow your writing to take you on a journey. Don't try to control it—let your writing lead you to new and exciting places. The wonderful thing about writing is, you don't need much: just a pen, a piece of paper, and your own imagination."
Listen to a sound file to learn the story of Lesléa's first name and hear it pronounced correctly.
Lesléa is a member of the following professional organizations:
Poets and Writers, Inc., 1980 – present
Society of Children's Book Writers and Illustrators, 1990 – present
Cat Writers Association, 2004 – present
Dog Writers Association of America, 2004 – present
Lesléa's teaching experience:
Faculty Mentor, Spalding University brief residency MFA in Writing program. Currently teaching writing for children and young adults.
Faculty Member, Stonecoast MFA in Creative Writing Program at the University of Southern Maine, 2005-2009. Teaches fiction (including young adult fiction) at low-residency MFA program.
Director of Creative Writing, Summer Math Program, Mt. Holyoke College, 1986-1990. Designed and taught creative writing to high school women from around the country.
Since 1981, Lesléa has designed and taught the following writing workshops privately, and as a guest presenter at universities and other institutions:
Write From The Heart: a writing workshop in which participants use the tool of writing to explore the emotional truths of their lives.
Poems From The Heart: a writing workshop for participants who want to write poems or already do.
A Novel Idea: a writing workshop for participants who want to write a novel, or are already working on one.
Education:
University of Vermont, Burlington, VT, 1973-1977
B.S. in Education
Major: Creative Writing and Human Services
Naropa Institute, Boulder, CO 1979-1980.
Teaching Assistant for the following courses:
Imagists and East Asian Poetry (taught by Patricia Donegan)
Literary History of the Beat Generation (taught by Allen Ginsberg)
Received Certificate in Poetics, 1980.
Bread Loaf Writers Conference (Poetry taught by Marvin Bell)
Ripton, VT, 1977.
Women's Writing Workshops (taught by Kathryn Machan Aal)
Aurora, NY, 1984.
Cummington Community for the Arts
Fiction taught by Grace Paley, poetry taught by Joan Larkin
Cummington, MA, 1986.
Writing Workshop for Women (taught by Joan Larkin)
Blueberry Cove, ME, 1986 – 1987.