Illustrated by Erika Oller
Published by Simon and Schuster, 2001
Ages 4 and up
Buy This Book
For an autographed copy of any of Lesléa's books, please send an email directly to her.
Do you love cats? So does Mrs. Brown! She has many, many cats who sleep all day and party all night. Join the fun as Mrs. Brown's cats throw confetti, eat spaghetti and do all sorts of things that make Mrs. Brown laugh with delight.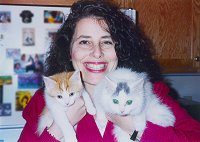 Why I wrote this book
I wrote Cats, Cats, Cats! because my two cats, Princess Sheba Darling and Precious Sammy Dearest, sleep all day and romp all night! Even though they get into all sorts of mischief, I love them just the same.
Excerpt
While Mrs. Brown was tucked in tight
The cats would party every night:

They'd chase their tails, they'd cut a rug
They'd foxtrot and they'd jitterbug

They'd feast on seven-layer cakes
And drink one-hundred chocolate shakes…

© 2000 Lesléa Newman
Reviews
"Kids and cat lovers alike will be tickled by Lesléa Newman's comical depiction of the cats disporting themselves in a very human manner: knitting, writing, cooking, and even dancing. The upbeat tempos of the rhymes are infectious, and even those usually uninspired by felines will be hard-pressed to resist Newman's convivial bunch. A whimsical tale perfect for cat fanciers young and old."
"In this exuberant picture book, Newman and Oller offer an inspired explanation of why cats sleep all day… All day long the fetching felines snooze and snore, but at night the fun begins, as they cut loose in a frisky frolic… They bake, they knit, they dance and play ball, and oh, what a mess they make by morning. This is a real find for cat fanciers and their furry companions who will no doubt give it an enthusiastic 'two paws up.'"