Illustrated by David Slonim
Published by Abrams Books, 2011
Buy This Book
For an autographed copy of any of Lesléa's books, please send an email directly to her.
It's the last day of Passover and Miriam is sick, sick, sick of matzo! But when she learns why we eat unleavened bread during the eight days of Passover, she considers changing her mind. A loving intergenerational story about a sweet holiday.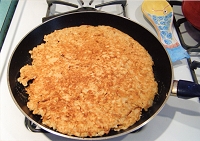 Why I wrote this book
Passover has always been my favorite holiday and I wanted to share my many happy memories about the holiday with readers of all ages. (And I actually do like the taste of matzo!)
Excerpt
"On the seventh day of Passover, Miriam ate lots of matzo by herself. She ate matzo with almond butter and matzo with apple butter. She ate matzo with blueberry jam and matzo with strawberry jam. She ate plain matzo, egg matzo, whole wheat matzo and chocolate-covered matzo.

"All week long Miriam ate nothing but matzo, matzo, matzo. When she woke up on the last day of Passover, Miriam was sick, sick, sick of matzo. All she wanted for breakfast was a warm slice of toast or a soft chewy bagel or a sweet cinnamon donut or a freshly baked blueberry muffin. But Passover wasn't over until sundown…"

©2009 Lesléa Newman
Reviews
"Miriam awakens on the eighth day of the holiday completely 'sick, sick, sick' of matzah and refuses to eat another bite. Perplexed and amused, Grandpa entices Miriam with the prospect of a breakfast of Passover French toast, otherwise known as matzah brei. Deliciously traditional."
"Miriam loves celebrating Passover at Grandma and Grandpa's house….But by the eighth day, Miriam can't bear to even think about eating matzah, until Grandpa makes a Passover version of French toast, matzah brei…. Infused with Yiddish phrases, a brief recounting of the Passover story, and appended with a recipe, note and glossary, this will be welcomed by young families."
Read the review at Kirkus Reviews.