Illustrated by Peter Ferguson
Tricycle Press, April 2004
Ages 4 to 8
Buy This Book
For an autographed copy of any of Lesléa's books, please send an email directly to her.
Roger is "different," much to his parents' dismay, until he teaches them just how fabulous being different can be!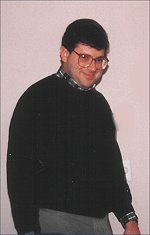 Why I wrote this book
I have a very good friend named Roger, whose favorite word is "fabulous." One day, Roger told me a friend of his gave him a nickname: "the boy who cried fabulous." Roger said, "Wouldn't that be a great title for a children's book?" I agreed and went to work!
Excerpt
When Roger started out for school,
His mother set a simple rule.

She said, "Now Roger, you go straight
Straight to class and don't be late."

Roger tried hard to obey,
He knew that he should not delay.

He shouldn't wander or explore
But then he came upon a store,

Its windows full of lovely clothes
So colorful that Roger froze,

Then clapped his hands in fits of glee
And shouted out in ecstacy:

"What a fabulous coat, is it silk or wool?
What a fabulous bell, can I give it a pull?
What a fabulous door, does it open wide?
What a fabulous store, can I come inside?"

© 2003 Lesléa Newman
Reviews
"Your fabulous book really got stuck in my head—the rhythms are irresistible, and I can't imagine them with any other art. I dig it."
"What's marvelous? What's fabulous? What's splendid? A book that encourages children to expand their vocabulary and that's just what The Boy Who Cries Fabulous does. In the book by Lesléa Newman, Roger is discouraged when his parents ban him from using his favorite word: fabulous. But you can't hold this child down, and his enthusiasm for all things stunning, scumptious and magnificient is contagious. By the end of the story, Roger's parents realize he is 'the world's most fabulous son.'"