Illustrated by Elizabeth Erazo Baez
Translated by Georgina Lázaro
Children's Press (a division of Lee & Low), 2022
Buy This Book
Download the teacher's guide to Alicia and the Hurricane / Alicia y el huracán.
For an autographed copy of any of Lesléa's books, please send an email directly to her.
After snuggling into bed each night. Alicia listens for the big voices of the tiny coquíes that sing her to sleep. Ko-kee, ko-kee, the little frogs call. Ko-kee, ko-kee. One day a terrible hurricane comes to Puerto Rico and Alicia and her family take refuge in a shelter. Alicia hears grown-ups snoring and babies crying. She hears wind howling and rain pounding. But she does not hear the song of her beloved coquís. Are the little tree frogs safe? And what will Alicia and her family find when the storm is over?
Published in an English/Spanish edition, Alicia and the Hurricane/Alicia y el huracán is my first bilingual book!
Why I Wrote This Book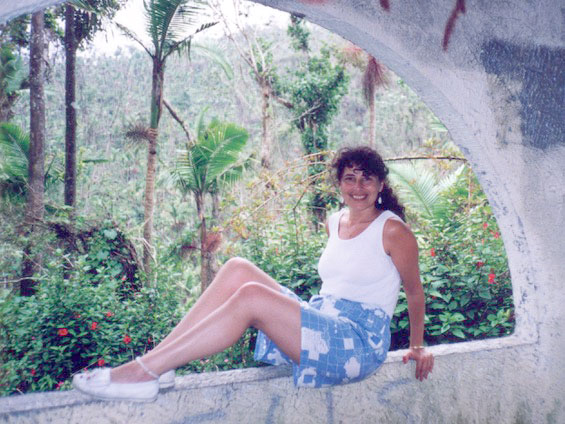 When Hurricane Maria devastated the beautiful island of Puerto Rico in 2017, my spouse, who is from Bayamón, Puerto Rico, was devastated as well. "What will happen to the coquís?" she asked. And in that moment, I knew I had to write a book to give hope to the children of Puerto Rico showing them that when families and friends come together with compassion and love, they can recover and rebuild their lives.
Excerpt
Every night, Mami said to Alicia, "Hop into bed like a little frog, mi corazón, and los coquíes will sing you to sleep."

And every night after Alicia kissed Mami and Papi good night, she hopped into bed, cuddled under the covers, and listened for the great big voices of the tiny little tree frogs that lived all over Puerto Rico.

Los coquíes loved to sing about their beautiful island. And Alicia loved to hear the little frogs sing.

Ko-kee, Ko-kee. We love our beautiful island.
Ko-kee. We love the beaches.
Ko-kee. We love the rain forest.
Ko-kee, ko-kee. We love the beautiful puertorriqueños who salsa to the beat.

One day Papi said to Alicia, "A terrible hurricane is coming….."
Reviews
"Hurricanes are a part of island life in Puerto Rico, and in this bilingual picture book (which places the Spanish text first), readers are treated to vibrant, compelling artwork and a tender story about one girl's experience with such a storm. […] Alicia's character represents Puerto Rican strength, and her story demonstrates how family and hope can move one forward in beautiful ways."
"Alicia and her family live in Puerto Rico, where she loves to fall asleep to the sound of the coquí, a tree frog abundant on the island. However, when Hurricane Maria hits Puerto Rico, the family has to shelter away from home with hundreds of other people. Newman offers an accessible glimpse of the effects of hurricanes in communities. This child-friendly picture book expresses the loss of homes and neighborhood damage from the eyes of a supportive and loving family…. Newman utilizes onomatopoeia to represent the sound of the coquí, which may enhance a story time activity where children imitate this frog during the reading. The acrylic paint and charcoal illustrations depict the story's plot with a palette of primary and pastel colors. The illustrator captures scenes of Puerto Rico, revealing her own rich heritage. VERDICT: An expressive picture book that will offer comfort to children who have experienced natural disasters and help other young children empathize with their classmates."
"The combination of the national symbol, the struggle that the Puerto Rican people experienced, and the solidarity that is resembled at the end of the story makes this book significant and meaningful."
"While reading this book, I was taken back to the fear and uncertainty of the days before and after Hurricane Maria devastated Puerto Rico on September 20, 2017. Like young Alicia, I also noticed the silence that invaded the nights. Like Alicia, I missed the sound of the coquí, a little frog-like animal whose voice resonates every night as a reminder that we are in Puerto Rico, and how proud we are to be Boricuas. Like Alicia, I also felt that the silence of the coquí meant that hope had been lost. But young Alicia teaches us that when the people of Puerto Rico began to help one another, the coquí began to sing again. And that song is a symbol of the strength and love that we show when we stand up for each other. Alicia and her family remind us that if we are together, HOPE, like the song of the coquí, will be ever present in our lives."
Articles and Videos