Illustrated by Brian Britigan
Published by Abrams ComicArts, September 26, 2023
Buy a Signed Copy
For every book ordered directly from Lesléa Newman, she will donate $1 to the The Matthew Shepard Foundation.
Order through PayPal below, or, if you prefer to pay by check or money order, send an email to leslea@lesleakids.com, and she will provide address and instructions.
Or purchase from other sellers:
A poignant tribute to the life and legacy of Matthew Shepard in the fight for LGBTQ+ rights, published to commemorate the 25th anniversary of the creation of the Matthew Shepard Foundation.
On the night of October 6, 1998, in Laramie, Wyoming, Matthew Shepard was brutally murdered solely because he was gay. This hate crime became a rallying cry in the LGBTQ+ movement, culminating in President Obama signing into law the 2009 Matthew Shepard and James Byrd Junior Hate Crimes Prevention Act.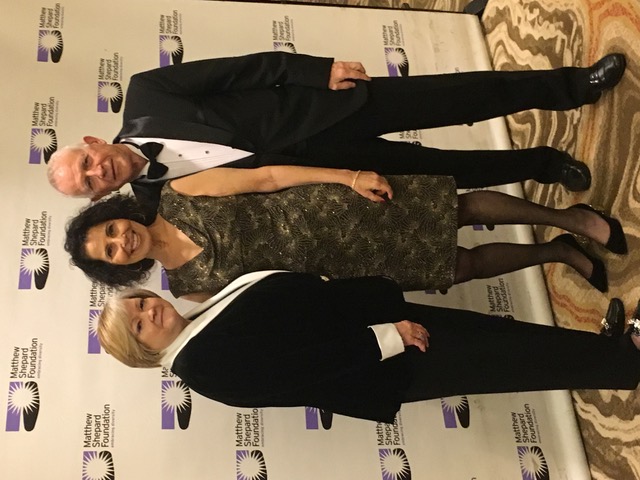 In 1998, Lesléa Newman was the keynote speaker for Gay Awareness Week at the University of Wyoming and arrived on campus the day that Matt Shepard died. Her book October Mourning: A Song for Matthew Shepard explores the hate crime that claimed Matt's life. Her new book, Always Matt: A Tribute to Matthew Shepard, explores his life and legacy, and highlights some of the people who have taken action in Matt's memory to make the world a better place.
Told as a poetic narrative, this book is fully illustrated by Brian Britigan and includes a foreword by Jason Collins, the first openly gay active basketball player in the NBA, who chose the number "98" to wear on his uniform in honor of Matthew Shepard.
"Loud and long expressions of gratitude and praise to Lesléa and Brian…for showing Matt as he truly was: someone who was gentle and kind, accepting everyone at face value, always wanting to make a new friend, and who had plans to make the world a better place for everyone."
"This deceptively simple look at Matthew Shepard's life and death is all the more powerful for what it doesn't show. Lesléa Newman's minimalistic poetic text combined with Brian Britigan's shimmering illustrations cast a ray of light and hope on a very dark episode of human history and in the process, creates a vision of transformed world. This is a beautiful book."
"When I think of Matthew Shepard, my heart fills with sadness. And yet there is much more to his story. Always Matt shows us there is also joy, wonder, hope, and most of all, love. We can never bring Matt back, but what we can do, is take inspiration from his shortened life and work hard to make the world a better place. Always Matt, which should be read by everyone, shows us how to do just that."
"Always Matt" is a memorial, a wake-up call, a celebration, a bullhorn, a prayer, an answer, and a wish for a better future."
Excerpt
He was a grandson, a son, and a brother.
To the world, he was Matthew Shepard.
To his family, he was always Matt.

Matt was born with muddy blue eyes
And blond peach-fuzz hair
On a windy Wyoming December day……