Illustrated by Carol Thompson
Published by Tricycle Press, 2009
Buy This Book
For an autographed copy of any of Lesléa's books, please send an email directly to her.
Mommy, Mama, and Me and Daddy, Papa, and Me are the first board books ever published for kids who live in two-mom and two-dad families. Both books depict a fun-filled day in the life of a happy, loving family.
Why I wrote these books
I wrote these books because I think it is important for kids from all types of families to see themselves portrayed in books. It validates their experience, and teaches alll of us that there are many different types of families and the most important thing about a family is that all the people in it love each other.
Excerpt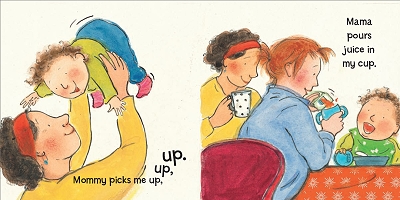 Reviews
"In Mommy, Mama, and Me a small child (Boy? Girl? Unclear) discusses the activities that make up a day with Mommy and Mama. Gentle rhymes describe everything from "Mommy lets me help her cook" to "Mama helps me read a book." No matter what this family does, however, they do it together until at the end of the day. "Now I'm tucked in nice and tight. Mommy and Mama kiss me goodnight." Similarly the book Daddy, Papa, and Me covers similar ground. Only in that book a slightly older toddler runs, plays, and eventually tuckers out an exhausted Daddy and Papa. Accompanied by bright and lively illustrations, these board books are keepers from page one onward."
"No matter what your family looks like, if you have an anklebiter on your hands, this is fine literature for tiny tots."