Illustrated by Erika Oller
Simon & Schuster, 2003
Ages 4 and up
Buy This Book
For an autographed copy of any of Lesléa's books, please send an email directly to her.
A parade of performing pigs comes to town to put on a show. First they enjoy an enormous feast put on by the townspeople. After the big pig-out, the pigs sing and dance and the fun really begins!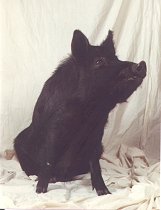 Why I wrote this book
A neighbor of mine had a pet pig named Wilbur (named for the pig in Charlotte's Web). I always wanted to write a book in honor of Wilbur and all pigs, who are actually quite smart— Wilbur could sit and shake hands on command— and now I have!
Excerpt
The pigs are coming to play, hooray!
The pigs are coming today.
We'd better take care to completely prepare,
A minute's too long to delay.

They're coming by bus and by train and by plane,
They're coming by hot air balloon.
They're coming by yak and by pink Cadillac,
They're coming, they'll be here by noon…

© 2001 Lesléa Newman
Reviews
"Another exuberantly rhymed and illustrated invasion from the creators of Cats, Cats, Cats! (2001) and Dogs, Dogs, Dogs! (2002)…this parade of porcine partygoers will bring the house down—and just like its rotund revelers, this tale has a twist at the end."
"This rollicking romp will be a storytime delight or a terrific laptime treat. It's sure to bounce right off the shelves."