Illustrated by Joshua Heinsz
Publisher: Abrams Books for Young Readers (2023)
Buy This Book
For an autographed copy of any of Lesléa's books, please send an email directly to her.
When it comes to playing dress-up, best friends Annabelle and Benjamin both want to be the bride, the ballerina, and the princess. Can both of them be the Fairest in the Land? Why not? Two princesses means twice the fun! A heart-warming inclusive story about supportive friendship and expressing one's true self with pride.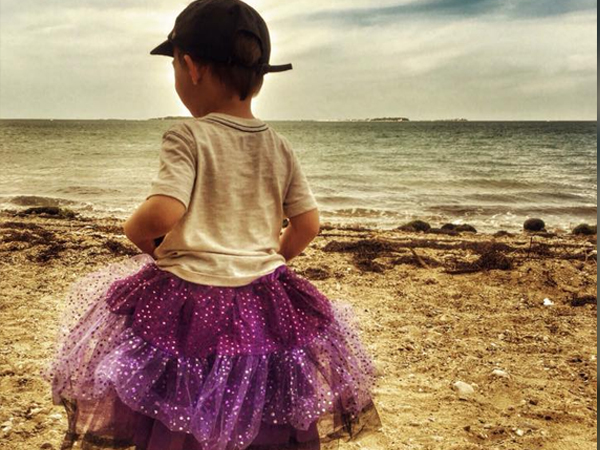 Why I wrote this book:
One year when I attended Family Week in Provincetown, I found myself standing next to a dad who was watching his son run around gleefully in a rainbow-colored tutu. The dad turned to me and said wistfully, "I wish my son was free to wear a tutu every day of the year, not just for one week in Provincetown."
As a children's book writer, I take the task of Tikkun Olam (Hebrew for "repairing the world") very seriously. It is my job to help create a safe world in which all children can openly live their authentic lives. The Fairest in the Land was written to smash gender stereotypes and make the world a safer, freer place for us all.
Excerpt
"Let's get dressed up," said Annabelle.
"Who would you like to be?"
"A princess!" shouted Benjamin,
"who lives down by the sea.

"I'll wear a purple velvet gown
stitched through with silver thread.
A shiny golden crown of jewels
will sparkle on my head.

"And rainbow slippers made of silk
will dance upon my feet.
I'll be the finest princess
that you'll ever hope to meet…."
Reviews
Kirkus starred review!
Annabelle and Benjamin love playing dress-up, but they both want to be the princess.

Benjamin, a light-skinned child with blond hair, always wants to be the bride, ballerina, or princess. His friend Annabelle, who has brown skin and dark brown hair, dutifully dons groom and prince costumes, but she wants to be the princess herself. Benjamin doesn't want to give up his role, but luckily, it turns out there can be more than one princess.

The story is told in rhyming verse that gives it a fairy-tale or nursery-rhyme feel, with artwork dominated by twinkling stars and hues of pink and purple. There have been a number of picture books that have told boys it's OK to wear dresses, but this one handles the topic of gender expression with particular nuance and care. Young readers are most likely to notice the messages that sharing and taking turns are important. Yet without directly saying it, Newman also makes clear that it's perfectly fine to be either gender-conforming or gender-nonconforming.

The characters' decision to play as two princesses without a prince distances them from the heteronormative romance narrative that can underlie even gender-nonconforming play. With the appearance of additional, racially diverse friends of varying gender expressions at the end, the book encourages readers to embrace themselves, no matter what that looks like. A pink and purple sparkling celebration of self-expression.