Illustrated by Tika and Tata Bobokhidze
Publisher: Kar-Ben Publishing (2023)
Buy This Book
For an autographed copy of any of Lesléa's books, please send an email directly to her.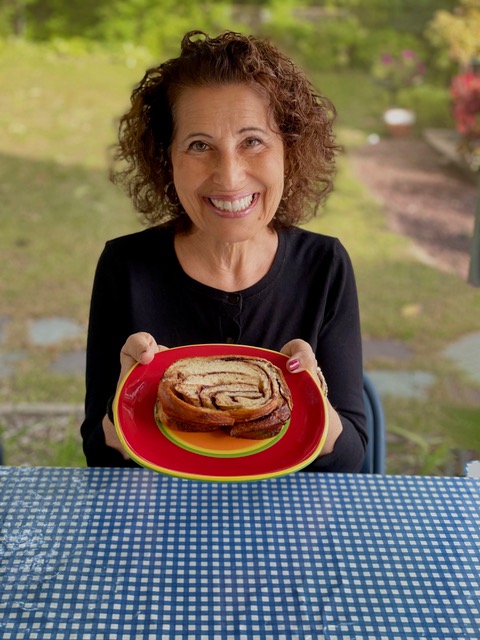 Esther (with her cat, Lester) lives next door to Hester (with her dog, Chester). Each shvester (Yiddish for sister) thinks she makes the best babka in the world. When Sylvester moves in across the street, he becomes their Shabbat babka tester! Whose babka is truly the best? You'll have to read the book to find out. Includes a yummy babka recipe!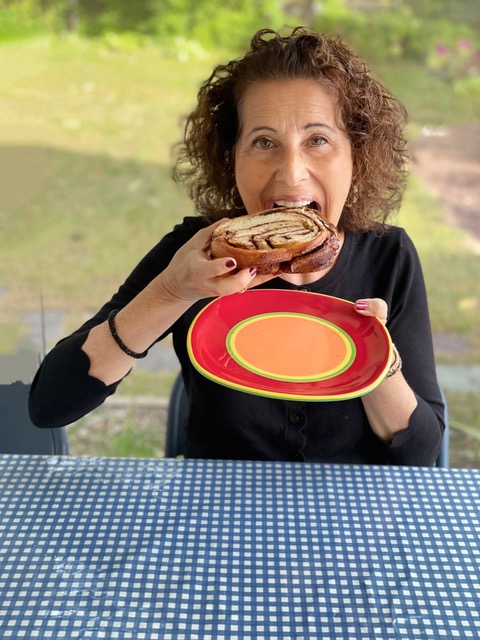 Why I wrote this book:
Why not? Who doesn't love babka? I simply can't resist a thick slice of homemade babka, whether it be chocolate or cinnamon. Several years ago, I was lucky enough to be chosen for the Author Israel Adventure, sponsored by the PJ Library. Along with other creators of Jewish children's books, I spent two weeks in Israel, touring the country, learning its rich history, singing, dancing and doing a lot of eating! After the trip, I had a lot to digest—figuratively and literally—and that's how this book was born.
Excerpt
Esther and Hester were sisters who lived next door to each other and adored each other.
"You're a doll," called Esther to Hester.
"You're a peach," called Hester to Esther.
And that's the way it was….

"Hester, do you see what I see?" asked Esther, pointing across the street.
"Yes," said Hester. "Someone has moved into the little blue house across the street."

"I'm going to bring them a babka for Shabbat," said Esther to Hester. "After all, I bake the best babka in the world."
"I'm going to bring them a babka for Shabbat," said Hester to Esther. "After all, I bake the best babka in the world."

And the great babka bake-off was on!
Reviews
Booklist starred review:
Prolific children's book author Newman has produced another delightfully silly story, this time about two sisters vying to make the best babka—a traditional, pastry-like Eastern European Jewish cake.

The adult sisters (or in Yiddish, shvesters) are named Esther and Hester, and they who live in neighboring houses. While chatting from their respective porches, they notice that someone has moved in across the street. When Esther announces her intention to bake the new neighbor a babka for Shabbat—"After all, I bake the best babka in the world"— Hester hops to the challenge of baking a superior one. A cleverly illustrated page uses sequential spot art to show the sisters at work in their different kitchens.

Once the baking is done, Esther and Hester, accompanied by pet cat Lester and pet pup Chester, carry their babkas to their new neighbor, an older man fittingly named Sylvester. Delighted by his welcoming committee, Sylvester diplomatically manages to restore peace between the siblings.

Illustrating the whole affair is Georgian sister act Tika and Tata Bobokhidze. Their artwork bursts with color and joy—and the whimsical touches keep the competition from seeming too heated. Back matter includes a babka recipe for those who want to get in on the fun. This book's ingredients of wordplay, dessert, and family combine smoothly into a delicious treat.
"Joyful and active, with a lot of rhyming names, this culinary story is a feast of loving sisterhood, friendship, and generosity."