Illustrated by Erika Oller
Simon & Schuster, 2002
Ages 4 and up
Buy This Book
For an autographed copy of any of Lesléa's books, please send an email directly to her.
City dogs out on the town—that's who you'll find in Dogs, Dogs, Dogs! Dogs swimming laps, dogs taking naps, dogs doing tricks, dogs chasing sticks. Count the dogs from page to page as they race through the streets past ladies wearing hats and a building full of cats on their way to adventures galore!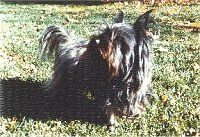 Why I wrote this book
I have always loved dogs and when I was twelve years old, my parents surprised me with my own dog, a Cairn terrier named Angus. I was inspired to write Dogs, Dogs, Dogs! one day when I was in New York City and saw a dogwalker walking ten dogs at once!
Excerpt
A counting book, written in rhyme, that tells the story of ten city dogs out on the town.

One dog walking through the city all alone
Two dogs gnawing on a big, delicious bone
Three dogs joining in a pick up game of hoops
Four dogs climbing up and down a row of stoops….

© 2000 Lesléa Newman
Review
"A jubilant jumble of dogs jaunts from page to page in this casual concept book. Oller's warm, caricature watercolor illustrations excell. newman's romping, rhyming text features from 1 to 10 dogs as they head to the park and create havoc with a plethora of playful pups…(a) spendid celebration of dogs and joyful read-aloud text."