Illustrated by Diana Souza
Special 20-year anniversary edition with full color illustrations published by Alyson Books, 2009
Ages 5 and up
Buy This Book
For an autographed copy of any of Lesléa's books, please send an email directly to her.
Heather's favorite number is two. She has two hands, two feet, two knees and two elbows. She has two pets: a black dog named Midnight and a ginger-colored cat named Gingersnap. Heather has two mommies: Mama Jane and Mama Kate. When Heather goes to day care, she learns that families come in all shapes and sizes: Joshua has a mom, a dad and a step-dad; Miriam has a mom and a baby sister; David is adopted. Heather also learns that "the most important thing about a family is that all the people in it love each other." Who are the people in your family?
Heather Has Two Mommies was a Lambda Literary Award Finalist in 1990.
Read Publishers Weekly article about Heather Has Two Mommies
Why I wrote this book
When I was growing up, there were no picture books that showed a Jewish family like mine. I remember wishing that there were. So when someone asked me to write a book about a little girl with two moms for her daughter to read, I was happy to do so. I wrote Heather Has Two Mommies so kids with two moms would have a book that showed a family just like theirs.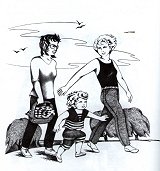 Excerpt
Heather's favorite number is two. She has two arms, two hands, two legs, two eyes, two ears, two hands and two feet. Heather has two pets: a ginger-colored cat named Ginger Snap and a big black dog named Midnight.

Heather also has two mommies: Mama Jane and Mama Kate.

Mama Kate is a doctor. Heather likes to listen to her heartbeat with a real stethoscope. When Mama Kate has a headache, Heather gives her two aspirins. When Heather has a cut on her knee, she asks Mama Kate to put two band-aids on it.

Mama Jane is a carpenter. Heather likes to look in her toolbox. She has nails and screws and a long yellow tape measure. Mama Jane has two hammers: a big one for herself and a little one for Heather. Mama Jane and Heather are building a table together.

On weekends Heather and her mommies spend lots of time together. On sunny days they go to the park. On rainy days they stay inside and bake cookies. Heather likes to eat two gingersnaps and drink a big glass of milk.

One day Mama Kate and Mama Jane tell Heather they have a surprise for her…

© 1990 Lesléa Newman
Reviews
"Just as wonderful as we had hoped."
"….this book is an important addition to library collections serving both conventional and alternative families."
"…ideal for reading aloud to children who face the pain and perplexity of difference. In a tender tone, child-size worries are calmly acknowledged and gently answered. Grade: A"