Illustrated by Amy Husband
Kar-Ben Books, 2016
Buy This Book
For an autographed copy of any of Lesléa's books, please send an email directly to her.
A family of bunnies, along with an owl, an alligator, and other animal friends, celebrate Hanukkah in this rhyming board book that includes the beloved rituals of the holiday.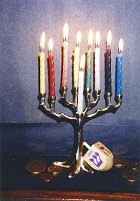 Why I wrote this book
I love Hanukkah! I love lighting the candles, spinning the dreidel, frying latkes, eating chocolate gelt, singing songs, and exchanging presents. So I decided to write a book for very young children that celebrates all the joy of the Festival of Lights.
Reviews
Toddlers and preschoolers will have fun celebrating Hanukkah with a family of bunnies, an owl, kitty and even a friendly alligator in this delightful rhyming board book that's perfect for introducing young ones to the rituals and traditions of the holiday. Award-winning writer and poet Leslea Newman ("Heather Has Two Mommies") and artist Amy Husband capture the warmth of Hanukkah's glow with gleaming candles, crispy latkes and "Dreidels spinning through the night, chocolate gelt—come take a bite."