Illustrated by Catherine Stock
Published by Clarion Books, 1995
Ages 5 to 9
Buy This Book
For an autographed copy of any of Lesléa's books, please send an email directly to her.
Uncle Leonard is lots of fun to be with. He takes Zoe on exciting adventures and tells her jokes that make her laugh. But today Uncle Leonard is sick. He feels tired and he coughs a lot. Still, Uncle Leonard takes Zoe to the Planetarium and pastes glow-in-the-dark stars on her bedroom ceiling. Zoe knows that whatever happens, Uncle Leonard, like the stars will always be there for her, "too far away to touch, but close enough to see."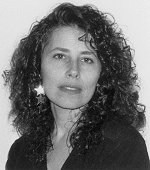 Why I wrote this book
My very good friend, Gerard Rizza, died of AIDS in 1992. I wrote this book to honor Gerard and to remind myself that even though, like the stars, he is now too far away to touch, he is also close enough to see. How can I see him? By closing my eyes and picturing him in my mind.
Excerpt
"Why did the man in the Planetarium call the sky the heavens?" I asked Uncle Leonard.

"I don't know, Zoe."

"Is that where people go when they die?"

"Maybe."

"Are you going to die, Uncle Leonard?" I looked at his face in the moonlight.

Uncle Leonard didn't answer for a minute, but I felt his hand squeeze my shoulder tight.

"Everyone has to die sometime, Zoe," he said. "There is no cure for AIDS yet, so I may die soon. But I hope not. I'd like to live for a long, long time."

I looked up at the stars again. "But where will you go when you die?"

"I don't know where I'll go," Uncle Leonard said, "but I know where I'll be. Too far away to touch, but close enough to see."

As soon as he said it, I knew he was right, because even with my eyes closed I could picture Uncle Leonard sitting at the cafe near the Planetarium, smiling his sad kind of smile.

© 1995 Lesléa Newman
Reviews
"Exceptionally thoughtful… Newman's treatment of her subject is singularly sensitive…. it's hard to imagine a more appropriate book that deals so gently and insightfully with such an important topic."
"An important book in which a young girl comes to an understanding of death, and more importantly, of love."
"This is a beautifully done quiet tale that will be meaningful to all children who have lost a beloved relative to any illness, but especially to AIDS. A special story of the enduring nature of love."