Illustrated by Amy June Bates
Publisher: Abrams (February 2019)
Buy This Book
Download the Teacher's Guide to Gittel's Journey.
For an autographed copy of any of Lesléa's books, please send an email directly to her.
Gittel and her mother are leaving the Old Country to come to America for a better life. But the health inspector tells Gittel's mother that she is not well enough to travel and Gittel must make the journey alone. But how can she cross an entire ocean by herself and start a new life when she is only nine years old? Gittel's mother tells her everything will be fine. But will it? A story of courage, faith, and hope, Gittel's Journey is based on the true story of Lesléa Newman's mother's best friend's mother, who came to America in 1906!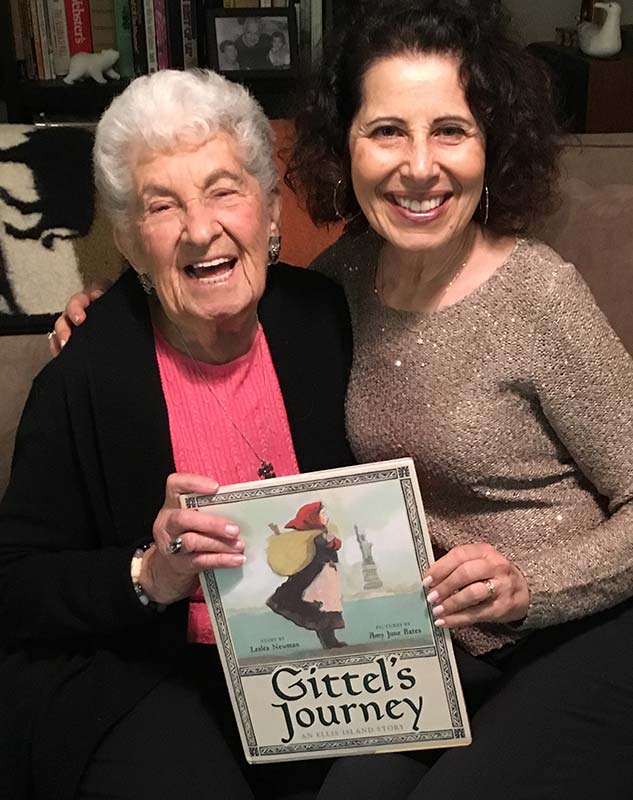 Why I wrote this book:
Gittel's Journey is based on my own family history, and it seemed the right time to tell the stories of my ancestors, who showed such courage when they decided to risk everything and travel across the ocean in search of a better life. The real Gittel is the mother of my godmother, Aunt Phyllis, who is thrilled that her mother's story will be read and discussed by thousands of readers of all ages for years to come. Aunt Phyllis and I both hope that the book will inspire readers to treat immigrants and refugees with kindness and compassion.
Read more about the real Gittel at the Jewish Book Council.
Leslea & Aunt Phyllis Discuss the Real Life Inspiration of Gittel's Journey
Leslea & Aunt Phyllis Discuss Immigration
Excerpt
When Gittel and her mother arrived at the port, they entered a big building and stepped into line. "Stay close to me," Mama said, taking Gittel's hand, "and do just as I tell you."

"I will, Mama," Gittel said. There were so many people jostling about, Gittel was squeezed right up against her mother's soft woolen coat. It tickled her nose and she sneezed loudly. "Gittel!" her mother hissed. "No sneezing."

"Why?" Gittel asked. What was wrong with sneezing?

Mama gave Gittel a stern look. "You must be quiet as a mouse," Mama whispered, "and not draw attention to yourself."

Soon Gittel and her mother reached the head of the line. "Stick out your tongue," a burly man with a bristly beard ordered Gittel. "Blink your eyes. Show me your hands." Gittel did as she was told. The man nodded, and then turned to Mama. "What is wrong with your eye?" he asked.

"It's nothing," said Mama. "I shed a few tears over leaving my home. Surely you can understand that."

"I understand all right," the man said. "Dry your eye and come back to me." The man turned to the next person in line while Mama wiped her runny eye. Then she returned to the man.

"Your eye is still red. It is an infection. Your request to go to America is denied."
Reviews
Starred Review
"Newman's spare yet evocative text works well as a read-aloud, and the solution to Gittel's problem . . . is both clever and true . . . She [Bates] employs Old World style decorative frames throughout (setting off both art and text), appropriate to the story's turn-of-the-century setting. Appended with a generous author note, this serves as a reminder that Lady Liberty's words once mirrored U.S. immigration policy."
Starred Review
"Newman (Ketzel, the Cat Who Composed) skillfully modulates her narration, capturing her protagonist's feelings of excitement, loneliness, and fear."
Starred Review
"Pair this with Patricia Polacco's The Keeping Quilt for an historical look at early illustration."
"Gittel's Journey: An Ellis Island Story is historical fiction at its picture book finest."
"Newman tells Gittel's story with sympathy and tenderness, incorporating Jewish phrases (italicized) and customs and placing with it facts about that time and place."
"This is a terrific book with spot‐on illustrations that brings social issues into the realm of picture books in an effective, memorable way. It's a fine, fine book worthy of your bookshelf space."