Illustrated by Kyrsten Brooker
Henry Holt & Co., 2002
Ages 5 to 9
Buy This Book
For an autographed copy of any of Lesléa's books, please send an email directly to her.
One day I read the wonderful poem "The Night Before Christmas" by Clement C. Moore and decided it would be fun to write a poem with the same rhythm and rhyme scheme for kids who celebrate Chanukah. So I did!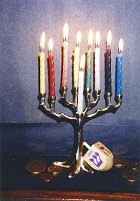 Why I wrote this book
Everyone has heard the poem that begins "'Twas the night before Christmas." Since my family doesn't celebrate Christmas, I wanted to write a poem based on that familiar verse for those of us who celebrate Chanukah.
Excerpt
'Twas the first night of Chanukah and on the fifth floor,
There was holiday hustling and bustling galore:

Papa was shining the silver menorah,
Mama was wrapping a gift for Aunt Dora.

Grandma was slicing up two chocolate babkas,
Grandpa was grating potatoes for latkes.

Sister was stirring the soup with a ladle,
And I at her feet spun my shiny new dreidel.

Each letter flew by: nun, gimel, hey, shin,
It was making me dizzy to see them all spin.

So I reached out my fingers to grab my new top,
But that silly old dreidel, it just wouldn't stop!

© 2000 Lesléa Newman
Reviews
"With a mix of fun and fantasy, Newman offers the story of a Hanukah dreidel with a mind of its own. The young narrator spins his holiday gift, and the dreidel takes off: through the living room, out the door, across the street, past the shops and into the country where it flies up to the sky and becomes a star. The characters are in Orthodox garb, and throughout there is an air of modern life and history melding. A wild evocative adventure."
"Acclaimed author Lesléa Newman spins a rollicking poem-story in Runaway Dreidel! Sure to become a Chanukah classic!"
"One of the most refreshing Chanukah stories I've read in a long time, Runaway Dreidel! is a fun read for everyone no matter what your religious affiliation… packed with smiles and embellished with terrific illustrations on every page."