Illustrated by Julia Gorton
Published by Abrams Books for Young Readers, 2010
Buy This Book
For an autographed copy of any of Lesléa's books, please send an email directly to her.
In rhyming verse, this picture book captures a day in the life of a very special mother, who fills each moment with magic and joy. Told in the voice of a child who knows just how loved and treasured she is, this book will make the perfect Mother's Day gift.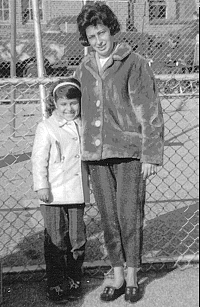 Why I wrote this book
This book was written as a gift to my mother, whom I love very much. Happy Mother's Day, Mom!
Excerpt
With a whirl and a twirl
across the fuzzy purple rug,
she swoops down on my bed
and scoops me up into a hug.
Nobody wakes me up just like Mama…

©2008 Lesléa Newman
Reviews
"While the title implies a girl copying her favorite and nearest role model, the story is in fact a tribute to Mama's singular awesomeness, particularly when it comes to addressing the narrator's needs. 'She sets out cups and saucers for my teddy bears and me,' writes Newman, 'and shows us all the proper way to pour a pot of tea. Nobody has tea parties just like Mama.' Gorton's pen and marker illustrations, an intriguing mixture of girly and bold, are cropped in a way that conveys the effussiveness of the narrator's feelings: her admiration and gratitude can't be contained by the margins."
Read the review at Publishers Weekly.
Read the review at Mom Knows It All.