Published by Pride & Imprints, 1997
Ages 15 and up
Buy This Book
For an autographed copy of any of Lesléa's books, please send an email directly to her.
Buddy and his best friend dream of being famous poets someday, but Buddy's time is running out. He is "thin as the IV pole by his bed." He "used to stay up all night dancing," but now he "stays up all night coughing." After he dies of AIDS, his best friend writes a novel in fifty poems that tells the story of his life and death. Buddy's buddy tells the story of their friendship with rage, humor, sadness, and most of all, undying love.
Poems from Still Life with Buddy earned author Lesléa Newman a prestigious Poetry Fellowship from the National Endowment for the Arts.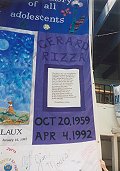 Why I wrote this book
In the 1990's, three very good friends of mine, Gerard Rizza, Victor D'Lugin, and Stan Leventhal, died of AIDS. I wrote the poems in Still Life with Buddy as a way to express my sadness, anger and grief. Buddy became a composite character, based on my three friends, and the poems in Still Life with Buddy tell the story of their lives and deaths and how I learned to live without them. I still miss my friends very much. Writing Still Life with Buddy helped me keep my friends close to me.
Excerpt
Once Upon a Time

Buddy wore a watch
with no hour hand
no minute hand
just a second
hand that swept
round and round
his wrist endlessly.
When I said to Buddy,
"What time is it?"
he always answered, "Now."
Once a beautiful stranger
stopped him on the street
and asked, "Do you
have the time?"
Buddy stretched his arms wide
smiled that smile
"I have all the time
in the world."

I remember the day
Buddy's arm shrank
for all time
and I watched
eternity slip from
his wrist forever

©1997 Lesléa Newman

Vital Signs

Rest Area
Quiet Zone
No Standing
Blind Drive
Departures Only
Rough Road Ahead
Slow
Downhill
One Way
Ticketed Passengers Only
No Baggage Beyond This Point
Road Narrows
Stay In Lane
Last Exit
Tunnel
Enter
No U-Turn
Fog
Wooded Area
Light Ahead
Densely Populated
Children At Play
Proceed
Shoulder Disappears
Yield
Stop
Dead End
Reviews
"This incredibly unique book should be read by everyone. It is a book for all libraries, especially school and public libraries. It should be required reading for all high school teens who find themselves invincible and think they will never die."
"…a virtuoso performance of haiku, sonnets, odes, koans, epistles, epigraphs, list-poems, a pantoum, and more types of lyric poems than I recognized."
"Still Life with Buddy is a beautiful and loving story of friendship, one that I will never forget, nor I suspect will you."
"One of the most extraordinary short works you will ever read. Newman manages to capture almost every emotion imaginable and through poems of varying lengths, she evokes laughter and amusement as often as a deep, still sadness and grief."