Illustrated by Susan Gal
Abrams Books, 2014
Buy This Book
For an autographed copy of any of Lesléa's books, please send an email directly to her.
Here Is The World is a celebration of a year of Jewish holidays, told in rhyming couplets with great joy. Come join the fun as the shofar is sounded for Rosh Hashanah, a sukkah is built for Sukkot, the menorah is lit for Chanukah, a grogger is shaken for Purim, and on through the rest of the year. To augment the story, the book contains an explanation for each holiday as well as a corresponding simple craft or recipe.
Why I wrote this book
I have always loved the Jewish holidays and they were a big part of my childhood. I loved to light the menorah for Chanukah, look for the afikomen during the Passover seder, walk to the synagogue on Rosh Hashanah and Yom Kippur with my parents and two brothers. I wanted to write a book that captures all the joys of the Jewish holidays, which I continue to celebrate year after year after year.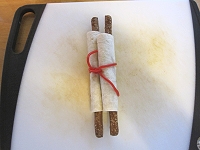 Reviews
Read the Butler's Pantry review on their blog.
"With a warm, sing-song patter and exquisite illustrations, this lovely picture book introduces young children to a joyous year of Jewish holidays and celebrations. Highlighting the essence of each season's offerings, the rhyming text moves smoothly from a summer baby naming to autumn's Rosh Hashanah, Yom Kippur, and Sukkot, and so on through the Jewish year ("Here is the sukkah, its roof made of twigs. Here are some grapes, pomegranates, and figs."). Yet the true stars here are the richly hued, digitally collaged illustrations, which add depth and whimsy. These pictures contain such warmth and life that readers will want to jump in and join the festivities. Each spread displays an abundance of colors and textures that work perfectly to create distinctive moods for the various holidays, whether it's a gregarious Simchat Torah parade, the warm glow of a Chanukah menorah, or the freshness of an early spring day planting trees for Tu B'Shevat. Back matter includes a more detailed description of each holiday, crafts, and recipes. A distinctive and welcome addition."
"The year's range of Jewish holidays and celebrations are presented in this repeating, rhyming chant that features key succinct elements for each. 'Here are your parents, with arms open wide. / Here are your siblings, to stand by your side.' Beginning in early fall, Newman carefully chooses a new baby girl's naming ceremony, not usually represented in other literature, followed by a Shabbat candle lighting, dinner and visit to the synagogue. She then launches into the high holy days of Rosh Hashanah, Yom Kippur, Sukkot and Simchat Torah. Winter leads with Hanukkah, followed by Tu B'Shevat and Purim before the traditional spring celebrations of Passover and Shavuot. An early summer Shabbat picnic brings the year full circle. Bookending this annual list with Shabbat observances reflects the significance the Sabbath holds in Judaism.
"Gal's illustrations provide a visual narrative, ending with a first birthday party for the baby named at the outset; the story culminates with her family marveling at the 'ever-changing world' and wonder of their child. Charcoal drawings enhanced with digital collage create textured, festive scenes for each of the ceremonial traditions. Backmatter explanations fill out the basics (including the bris, or boys' welcome ceremony) with a specific craft or activity for each holiday. Both lovely and eminently useful."